The Foundation "Nema predaje" recently made a donation to the Association "Život i radost" from Cestica, founded with the aim of improving the quality of life of children with developmental disabilities. The association operates in a region where Dinamo has active club Trustees, as well as a large number of fans and members.
The aim of the association is primarily the participation of children and users in sports activities as well as physical activity of persons with developmental disabilities for a better quality of life, as well as promoting and raising the society´s awareness for the integration of children with developmental disabilities and disabled persons into society.
The Foundation decided to help and donate equipment for sensory and motor exercises in the amount of HRK 17,000. In addition to sensory and motor exercises, various activities and workshops are carried out to encourage the socialization of children and persons with developmental disabilities in order to motivate them to do as many activities in their everyday lives.
Last week, the handover of the donated equipment took place in the association's premises. On behalf of the Foundation, the Trustees of GNK Dinamo Stane Lazar and Zlatko Premuš were present, while the donation was received by the president of the association Irena Jamnik and a member of the Executive Board Tomislav Lazar. The handover was also attended by Mirko Korotaj, Mayor of the Municipality of Cestica, in whose region the association operates, and who wanted to emphasize the importance of the activities of such associations in the municipality.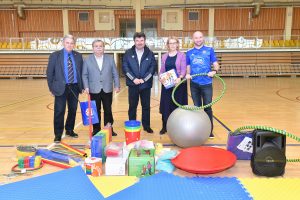 The donated equipment of the Foundation consists of various balance sets, therapeutic sets for motor and sensor skills, tactile and balance discs as well as sets and games for exercise.
– When I heard that our request to the Foundation "Nema predaje" was approved, I could not believe it. Their news of the positive outcome of the request made me cry! The equipment they donated to us will make our daily lives and work with our clients much easier. We thank them from the bottom of our hearts – said the president of the association Irena Jamnik at the handover.
Representatives of the Foundation and of the first Dinamo team will visit the children and other clients of the ŽIR association in the coming period.
The Foundation would also like to thank our Dinamo Trustees who are always happy to respond to such beautiful campaigns and stories.